So, I'm by no means a master chef. As a matter of a fact, I'm learning to cook with an online cooking class. (It has been great by the way, I'll save that for another post.)
But even the novice cook can have favorite gadgets and appliances that make life simpler and fun, right? So I thought I'd share my top 5 and hope that you'll share some of yours so that maybe I can expand my aresnal: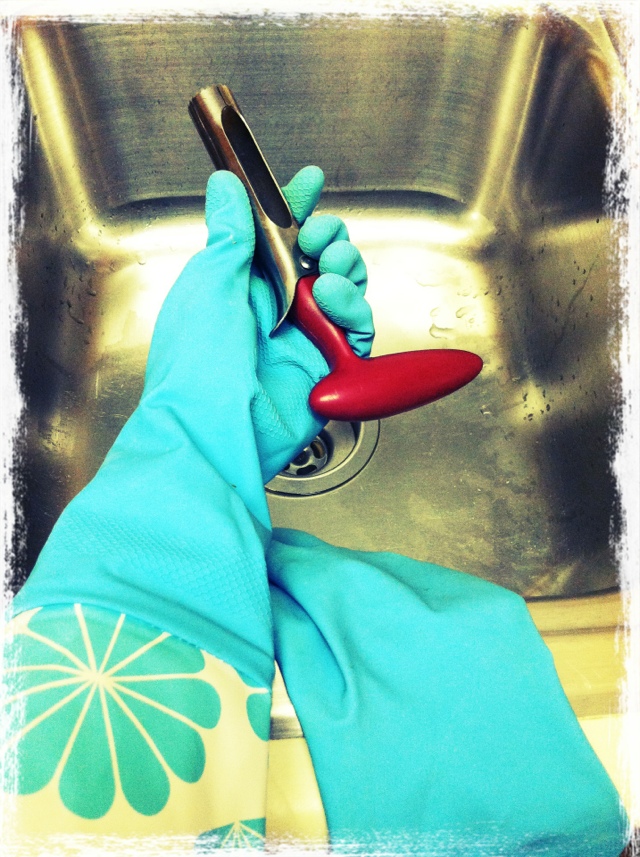 1) Cute Fashion Rubber Gloves. For some reason, it just makes it more fun to clean and cook while wearing some fun colored gloves. It's the simple things in life. :) You can get them for a couple bucks at places like Marshall's.
2) My Apple Corer. You know how you remember some things from your childhood? Well for some reason I always remember using my mom's apple corer to remove the core from and apple and stuff peanut butter and raisins inside for a snack. So, one Mother's Day I was surprised to receive my own apple core gadget. (Someone paid attention. :) ) I use it all the time when cutting up apples for snacks, and for making some fun snack creations. ( It also works with cheese. ) :)
3) Ah, my Bread Machine. I don't know how many potlucks have seen a loaf of my "homemade" bread. Yes, of course, I always let others know that I use a machine. Even so, I love it and love the recipe we always use for some great Peasant Bread. It has been a huge time saver for preparing for a potluck or gathering. I just spend 5 minutes putting flour, salt, sugar, water and yeast in the machine and about 2 hours later, we have a beautiful loaf of fresh bread.
4) The Ebelskiver Pan. My son loves ebelskivers. It does get a bit involved to make them, but they are so worth it, and quite a topic of conversation!
5) Magic Bullet. We make smoothies in the morning, in the afternoon, and at night. I also make pesto, tomato sauce and salsa with it. Just love it.
Well that's it. I wonder what this Mother's Day might bring? ( If the right people are reading this, just know that I could use an electric mixer. :) )
What are your favorite Kitchen gadgets? I'd love to hear what gadgets you use, and I might need what you have. :)
Related posts: