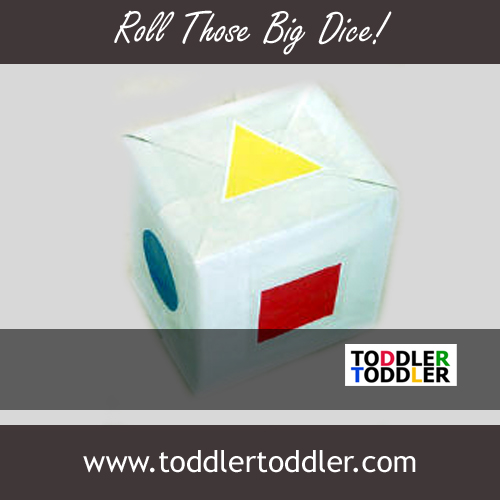 Roll those Big Dice –
This is a fun activity for toddlers where they can learn their shapes and colors while having fun tossing big boxes around the room. You'll need a couple of medium size square boxes. Wrap each box with white paper or wrapping paper turned inside out. Then click on the shapes below to print. Cut them out and tape/glue them to the 6 sides of the dice. Have your toddler roll each die and tell you what shape/color is on top. They'll love tossing the big boxes around!

Supplies Needed-
– 2 medium size square boxes (they don't have to be exact squares)
– White paper, or wrapping paper
– tape or glue
– Printer and paper (if you don't have a printer, see the Tips below)

Tips/Suggestions-
– If you don't have a printer you can just draw the shapes on the dice or cut them out of construction paper.
– For the older toddlers you can have them help you with wrapping  the box and putting the shapes on each side. You can also practice learning what a pair is when they get two of the same shape.
– For more durability, use contact paper over the cutout shapes to affix them to the box.
Related posts: