Time for some Dry-Erase Fun! –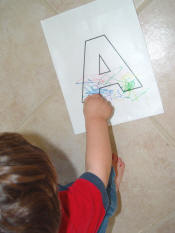 With this project you'll be able to let your toddler color over and over again on the same piece of paper. Click on one of the links below to print either a letter or a shape. Then put some contact paper over the paper and let your little toddler color on top with some non-toxic dry-erase markers or crayons. You can wipe it off with a paper towel and then let her color it again!  

Supplies Needed-
– Printer (preferably color)
– Paper or cardstock
– Contact Paper/ Or laminating paper
– Dry-erase markers or crayons

Tips/Suggestions-
– Using cardstock will let you create some dry-erase boards that will last longer
– Some dry-erase markers might leave marks if left on for a long time. Others might need a damp cloth to wipe off. Most crayons wipe of easily.
Related posts: