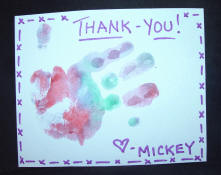 Handprint Cards-
A truly personalized card for that special relative! Use some non-toxic kid paints/watercolors and put a few drops of a few different colors on a plate. Add a few drops of water if needed.  Have your child put his hand on the plate and move it around to get a mix of colors. Then stamp his hand on some watercolor or cardstock paper.  Do as many that will fit on the paper so that you have enough room to write a saying like "Thank you" or "Happy birthday" or Congrats" around each. Also leave room to sign his/her name. Friends and relatives will love these! …and so will your little one!

Supplies Needed-
– Watercolor paper/heavy cardstock
– Small envelops
– Non-Toxic Watercolor paints/Kids paints
– Small cup of water
– Smock (old shirt) for your child
– Markers to write greeting and name
– Damp washcloth

Tips/Suggestions-
– Usually with an 8.5in x 11in  piece of paper you wouldn't want to have more than 6 prints on a page. This way you can cut rectangle cards that have a print and allow enough room for the words.
– You might have to do a few practice rounds before you get the right amout of paint and water.
– Keep a damp washcloth nearby so wipe off the hand(s) if they become too coated with paint. Otherwise you'll loose the visibility of the lines in the hands.

Related posts: