Shapes hunt and match!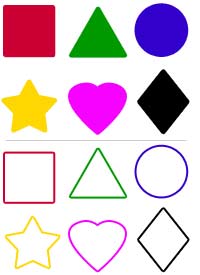 It time for another hunt! We seem to have lost some shapes in the house and we know that toddlers are great at finding things! Print out the sheet of shapes and outlines. Cut the sheet in half (along the line). Then cut out the SOLID shapes only and hide/place them around the room with a little tape on the back. Now give your toddler the half-sheet with outlines and help her find the shapes and stick them on to the outlines!

Supplies Needed-
– printer to print shapes and outlines sheet
– tape ( or double stick tape)

Tips/Suggestions-
– If you want to do this again and again, print on cardstock and put some contact/laminate paper on top before you cut.
– After finding all the shapes and matching them to the outlines let your toddler hide the shapes and then help  you find them and match them. Toddlers love to feel like they are helping out!
– If you don't want the colors, just print in black and white!

Related posts: