Have a COLORFUL party!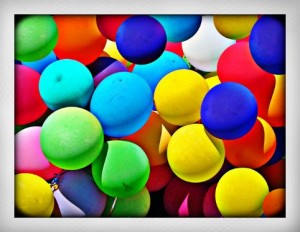 This is a great way to learn your colors! Invite a few friends over and ask them to wear clothes in their favorite colors and bring a toy that has their favorite colors.
When everyone arrives you can sit in a circle and have each toddler tell the group what color he/she is wearing. You can help them identify the colors by pointing out the similarities between kids…"Hey look! Joe and Jill are both wearing yellow shirts!"
Some fun things to add to the party are color balloons, plates, or napkins to match each outfit. For the healthy side of things, have some green apples, red apples, bananas, grapes, oranges, and blueberries and let the kids find the fruit that matches their outfits!
Related posts: