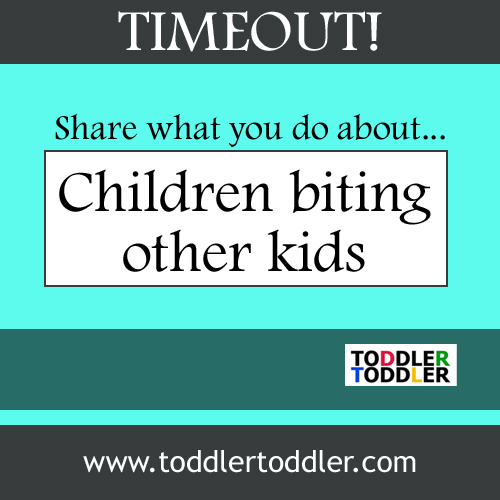 This is the first of our "Timeout!" posts, where I'll share situations that some of our fans are experiencing and others can comment with any thoughts or methods that they have tried. As a group, let's show these fans how much we care and share any encouraging thoughts.
Stressed posted:
My son is very aggressive and is still biting at 3 years old.
little ace posted:
For the most part, I'm very proud of how my son handles most situations (he's 2 years 3 months)……but, as of late, he's bitten a peer twice when they've taken a toy from him or pushed him. Any ideas of how I can continue to help him make a better non-biting decision in the heat of the moment? We role play and talk things out simply at home but I feel helpless as to how to help him in the "heat of the moment" if I'm not there with him. He goes to a wonderful daycare but I know they can't have their eyes glued to him ALL the time. The discipline given at daycare has been a time out but at your recent webinar you mentioned to avoid those. Any ideas of some kind of discipline when/if he bites or acts aggressively to a situation and also how we can help him make those better decisions in the heat of the moment? Thank you!
Have you dealt with this? What have you tried? Comment below and share your experiences!