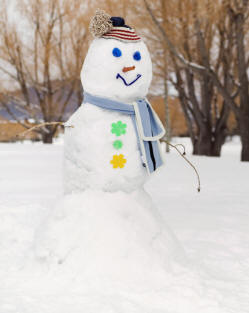 Hide and Seek with Frosty –
Take some white paper plates and make some snowmen to put around the house! Have a Snowman party and dress them up with all kinds of different hats, scarves, and buttons! Take one plate for the bottom, cut a second plate just a little smaller for the middle, and then the last plate a little smaller for the head! Tape them together. Now use some real buttons and glue them on the middle part. Use some construction paper and make some hats! Then use a marker or googly eyes  to make the face. Use an orange sponge to make a nose. Be creative and use what you have in that craft bin!
Then after making the snowman. Put him in a room in the house and walk around with your toddler trying to find him! You can sing Frosty the Snowman while you look around!

Supplies Needed-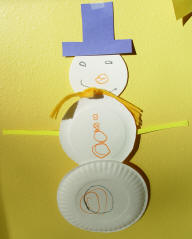 – scissors
– white paper plates
– glue
– construction paper
– buttons
– tape

Tips/Suggestions-
– Talk about the different shapes you are using to make the snowman.
– Talk about the different colors you are using and the different parts of the snowman
– Let your toddler help to count the snowballs
Related posts: