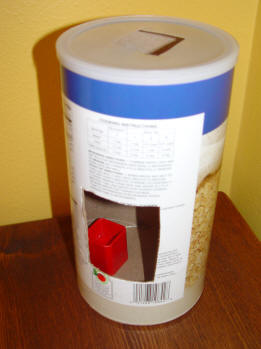 Blocks In, Blocks Out!
Take an empty oatmeal container and get some of your toddler's blocks or small toys. Then cut a square in the lid that will allow a block (or small toy) to fit through. Next cut a rectangle about double the size of the opening in the lid on the side of the container. Then have your toddler start to put the blocks in the opening on the lid. When she has put in a few, let her roll the container slowly along the floor and see the blocks fall out through the side opening. Let her do it again and again.
Supplies Needed-
– Oatmeal container (42oz. shown in photo)
– scissors or utility knife
– blocks or small toys
Tips/Suggestions-
– As your toddler is putting things in the opening count them with her!
– Mention what letters are on the blocks as she picks them up, or what pictures are on them.
– Make it a game and sit a few feet from each other. Have her put a few blocks in and then roll the container to you! Then you put some block in and roll it back. See how many blocks fall out while you roll it back and forth!
Related posts: