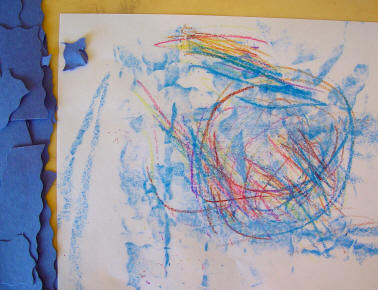 Drawing Textures
Use your crafty scissors and cut up some construction paper in pieces or strips. Then put them all under a piece of white paper and let your toddler rub a large crayon sideways over the paper. You'll see all the different edges of the paper underneath appear. Then take about 5 or 6 crayons and tape them together. Let your toddler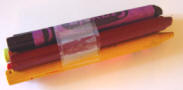 use the group of crayons to draw over what she just made. Talk about how the lines and shading look different. Talk about the colors and curves, or lines you see.

Supplies Needed-
– scissors (crafty edge if you have them)
– construction paper
– white copy/print paper
– crayons

Tips/Suggestions-
– Let your toddler choose the colors of the crayons to bundle up.
– Ask your toddler what color paper she wants to use.
– Send the beautiful work of art to a relative and brighten his/her day!
– Make one along with your toddler and send it to a relative of yours from you!
Related posts: