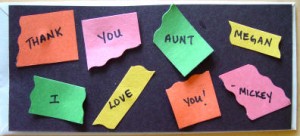 Fun card!
Make a fun card for someone. Cut out some small pieces with fun scissors and then let your toddler glue them to a piece of paper. Then ask her what she wants to tell the person she's going to send it to and write the words on the small pieces of paper that she just glued on. Talk about the colors she's using and the letters you use to write her message!

Supplies Needed-
– scissors
– colored paper
– glue

Tips/Suggestions-
– Make a card for that special person that comes home from work.
– Or surprise a neighbor and put a fun card in their mailbox!
Related posts: