Laundry Basket Shopping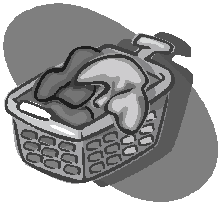 Save some boxes and containers from your pantry after they are empty. Here's a great way to recycle them and let your toddler have some fun too! Take the empty boxes of crackers, cereal, or raisins and put them all over the room. Put them on the couches, tables and bookcases. Then let your toddler push an empty laundry basket around the room and do some shopping! For the younger toddlers, the laundry basket will help him balance. Talk about the different kinds of food and the pictures on the boxes. Then as he wants to check out, count the number of boxes! Be sure to print out the Toddler grocery list before you go on your next shopping trip.

Supplies Needed-
– Saved up boxes for food, or plastic play food
– Laundry basket ( or box)

Tips/Suggestions-
– You can print out some Toddler Money to so that your toddler can pay for all the groceries at the end!

Related posts: