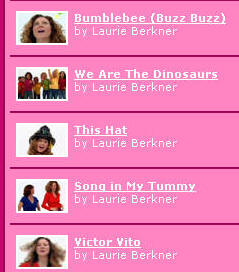 Toddler MTV and Music Moves!
We found an internet site that has one of our favorite children's singers…Laurie Berkner. Go to this site and you'll find many fun music videos to listen to with your toddler. Have your own sort of MTV for Toddlers! When the songs come on, get up and dance. Move to the music, march, and make the animal sounds along with the songs. Click here for the webpage with videos.

Supplies Needed-
– internet and speakers

Tips/Suggestions-
– Get dressed up for the dance party! Put on a boa or a fun hat!
– If you have a disco ball let it sparkle while you hear the music and dance around.
Related posts: