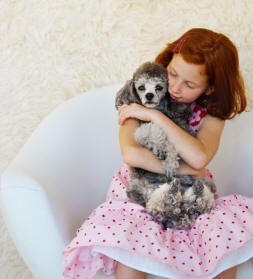 Pet Onesies!
Take those old onesies and make some pet clothes with them! (If you don't have a pet, make one for a stuffed animal) Cut off the bottom strip or tie it in a knot and glue a bow to it. Let your toddler color the onesie with markers, or stickers, or glue to create a one of a kind outfit for that special pet of the house. You can try to write the pet's name on it too and review letters. Then let your toddler help with putting the shirt on the pet or stuffed animal! Wow, couture made by a toddler.

Supplies Needed-
– old onesie
– markers, stickers, glue (sequins, pompoms, felt)

Tips/Suggestions-
-Talk about the different colors your toddler is using.
– Take a picture of your toddler fashion designer and the pet when during the runway show!
Related posts: