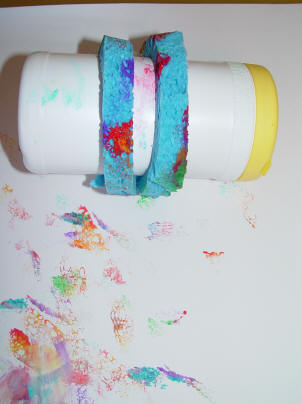 Roller Painting
It's always fun to find new ways for a toddler to paint! Here's one way that your toddler can have some fun and make a great piece of art all at the same time. Take an empty cylindrical wipes container and peel off the label. Then take a dish sponge and cut about a half inch in a spiral so that you end up with one long, curly string of sponge. Then take the string of sponge and wrap it around the middle of the wipes container. Tape each end or tie with a string. Then let your toddler roll the container on a plate with paint on it so that the sponge soaks up some paint. Next have her roll the whole thing on some paper and see what she makes. She can roll back and forth holding onto the side of the container.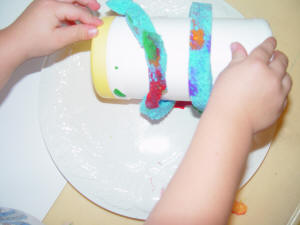 Supplies Needed-
– cylindrical plastic wipes container
– sponge
– tape/string
– plate
– kids paint
– paper

Tips/Suggestions-
– If you don't have the same container as in the photos, you could always use a paper towel tube.
– Let your toddler pick the colors to use!
– Talk about going "forward" and "back" while your toddler rolls it back and forth.
Related posts: