Sticker Bug Blankie!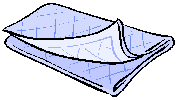 Did you ever notice how toddlers love to peel things off, especially when they aren't supposed to? Well keep your toddler occupied with this activity by letting her peel off all the "sticker bugs" from a blanket. Take a blanket and put a bunch of stickers all over it. Then tell your toddler that she is needed for an important job. You need her to take off all the sticker bugs that got stuck to the blanket. You can count each one she takes off, and put them on a piece of paper. Then talk about what is on each sticker! This is a great activity for their little fingers too!

Supplies Needed-
– small blanket
– stickers

Tips/Suggestions-
– Remember the more excited you are about an activity, the more interest your toddler will show in it.
– You can use the alphabet bugs for this activity also!
– Try this activity on the plane!
Related posts: