Markers Game –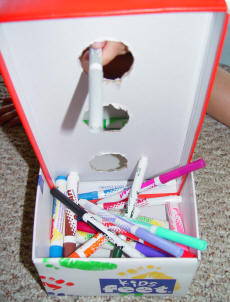 All you need is a shoebox and some markers ( or crayons) for this fun game with your toddler. Take the lid of the shoebox and cut a couple of holes about 1.5 inches in diameter. Then set the box lid inside the box as shown in the photo, in the middle of the box. It should fit snugly and you may need to tape it to stay in place. Then put some markers in the box on either side of the lid. Next ask your toddler to send over an "orange" marker, by sticking it through one of the holes. Then let her ask you to send over a color.

Supplies Needed-
– shoe box
– scissors to cut holes in lid
– markers or crayons

Tips/Suggestions-
– Your child will just get a kick out of pushing the markers through the holes, so if she wants to send all of them over at once, just let her. Then it will be your turn.
– Have fun and get excited when your toddler gets a marker through. 
Related posts: