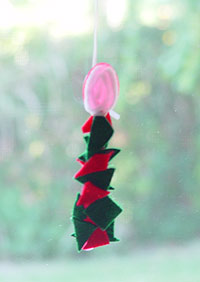 Toddler Christmas or Hanukkah Decoration!
Easy. Easy. Easy. It kind of looks like a candle when there is light behind it…and your toddler will have fun making it! For this activity you'll need an old infant plastic disposable spoon. ( or any other plastic feeding spoon). Cut up some green and red felt ( or gold and blue) into small triangles. Then cut a thin strip of white felt about 6-8 inches long. Now put glue on the front of the handle of the spoon and let your toddler place some green and red felt pieces to cover it up. Then turn it over and do the same on the back of the handle. Now put some glue on the spoon head and coil up the strip of white felt. Now let your toddler place that coil on the spoon head. Lastly, take some thin ribbon/string and tie it around the base of the spoon head. You can tie the other end of the ribbon to a paperclip or just make a loop to hang it on the tree ( or from a suction cup hanger on the window, as in the photo). EXCELLENT JOB!

Supplies Needed-
– small plastic disposable feeding spoon
– green, red, (or gold and blue) white felt
– scissors
– glue
– ribbon/string

Tips/Suggestions-
– While your toddler is putting the green and red felt pieces on, talk about each color.  Maybe say " Hey, Aiden, try to put a green piece there and a red piece below it."
– You can also count the number of red pieces and green pieces.
– These are great gifts to make for the relatives and tie to presents as decoration!
More Holiday Activities:
– Holiday Placemats
– Recycled Snowman
– Holiday Tree
– Holiday Harry Hat
– Indoor Snowstorm
Related posts: