Toddler Dominoes Game!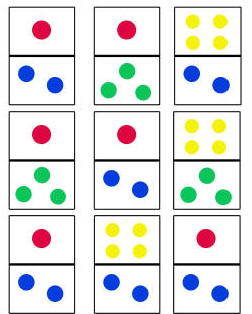 Print out the sheet of dominoes to the right and then put some contact paper of the sheet. Next cut them out to make the 9 dominoes. Now play with your toddler and match up the colors/dots to each other. Count the dots and look at the colors. This is a fun game to take with you on a trip or while waiting in line somewhere! You might even want to glue them to some cardstock to make them a bit sturdier.

Supplies Needed-
– printer to print the sheet of dominoes
– contact paper (optional)
– cardstock(optional)
– scissors

Tips/Suggestions-
– Can you just use these as toddler flash cards while waiting in line somewhere. Hold up a card and ask your toddler what color the dots are. Then ask how many he sees. Or ask him to point to the green dots.

Related posts: