Toddler E-mail!! –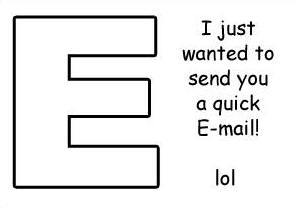 Your toddler doesn't have to use the computer to send an e-mail…just print out the page of "E-mails" and have your toddler color them. Then let your toddler help to stuff them in envelopes after you cut them out. Next let your toddler help to put a stamp on each envelope and decide who he wants to send the E-mail to! Then let him help to walk the envelopes out to the mail box or even take a trip to the post office!!! You can send these to some other toddler friends also! Oh and remember to talk about the letter E!!!!

Supplies Needed-
– paper to print the sheet of 4 E-mails
– scissors
– crayons and markers
– postage stamps
– envelopes

Tips/Suggestions-
– While putting the postage stamp on, talk about what picture is on the stamp and what colors are on it.

Related posts: