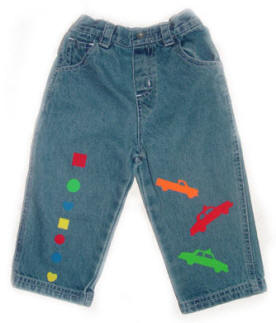 Toddler Fashion Designer –
It's time to be a fashion designer! Find some toddler jeans and your favorite foam stickers. ( You can use regular stickers too). Lay the jeans out on the floor and let your toddler put stickers all over the pair of jeans/pants. Then while you are out running errands and need a distraction, have your toddler remove some of the stickers or put them on his/her shirt. Or you can ask her to find the pink butterfly or red letter A and take it off to give to you.
Supplies Needed-
– pair of pants/jeans ( or shirt)
– foam stickers or other stickers
Tips/Suggestions-
– If you have alphabet stickers you can put words on or just the letter that your toddler is currently learning.
– While your toddler is selecting stickers to put on you can talk about the colors, shapes, and words.
Related posts: