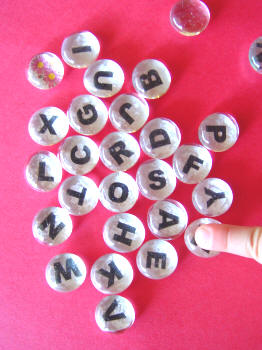 Glass Bead Letters!
Have fun making some alphabet letters for your child to play with and learn at the same time. Be sure that your child won't put these in his/her mouth! Take some clear glass beads and print out the sheet of letters below. Cut the letters out, in small circles and let your child help to glue them with a glue stick to the glass bead. You can also use some small drawings or stickers too! When you are all done, put them all on a cooking pan and let your child move them around the pan, knocking them into each other. You can spell out words or have him hunt for a certain letter! Find a small sack to put them in and let your child hear them jingle together.

Supplies Needed-
– computer with printer and paper to print the sheet of letters
– clear glass beads ( can be found at Walmart or JoAnn Fabrics)
– glue stick
– scissors

Tips/Suggestions-
-If you have some adhesive magnetic backing you can even make these into magnets for the refrigerator!!
Related posts: