Halloween Snackmat!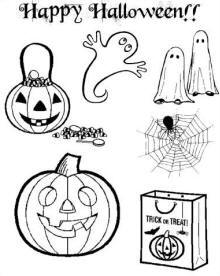 It's that time of year when the pumpkins start coming out. (And we don't mean your "little pumkin"). For this activity, print out the sheet of Halloween items and let your toddler color them with a crayon or markers. Then cut them out with scissors. Next cut two pieces of contact paper the same size, about 9 x 12 inches. Put one piece of contact paper sticky side up and then put the cutouts on top. Then place the second piece of contact paper, sticky side down, on top. This will seal the cutouts inside. Your toddler now has a fun small placemat or snackmat to use. So the next time it is snacktime, let your toddler use this and try to identify the pictures he sees! BOO!

Supplies Needed-
– Printer and paper  to print Halloween pictures
– scissors
– contact paper

Tips/Suggestions-
– You can print out a page for yourself to color while your child colors his. Then you have extra pictures to put in the snackmat.
– If you want to jazz it up, you can even sprinkle some glitter on before sealing it up with the top layer of contact paper.
Related posts: