Have a Great Day!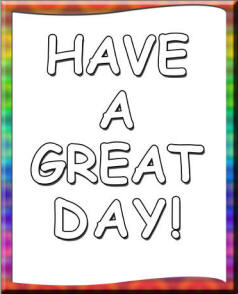 Here's an activity that your toddler can do and spread happy thoughts/wishes to others. Print out the sign and have your toddler color it with markers/crayons. Then either put it in an envelope and mail it to a special relative/friend, or slip it into your daddy's lunch box for a mid-day surprise! You can review the letters on the sign while your toddler is coloring it…." Oh, Quinn, I see that you are coloring that letter A with an orange marker. Great job!" The finished product is sure to put a smile on the receiver of such a wonderful piece of artwork by an outstanding artist!

Supplies needed:
– Printer to print out the sign
– markers, crayons

Tips/Suggestions:
– Try to have your toddler say the words on the sign. Then the next time you see someone ask your toddler to tell him/her to "have a great day!"
– Make sure to sign your toddler's name and date the fine piece of art!