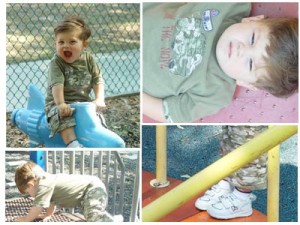 Playground Postcard!
Make that next trip to the playground a project! Take some candid photos of your toddler while he/she is climbing around. Be sure to get some close up shots too. Then at home print out a few photos and cut them up to fit on a postcard. You can then put some contact paper over top and send to that special person. If you want to make a lot. Then take another digital photo of the postcard and print that photo on thicker photo paper to cut into postcards.

Supplies Needed-
– Camera
– Scissors
– Postcards (blank), or cardstock

Tips/Suggestions-
– Depending on the age of your toddler, she might be able to help glue the photos on the postcard.
– Check out the Nature Postcard activity
– While you are working with the photos, talk about them with your child and ask her what she was doing in that photo. Talk about how she was climbing, swinging, bouncing, etc.
Related posts: