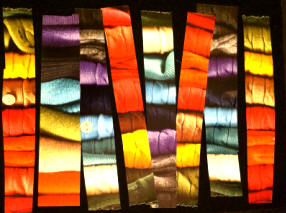 Let your child create a fun rainbow placemat!
If you get some clothing catalogs, you can put them to good use for a fun craft with your little one! Ones that show color sections of items are the best, because it gives you a quick and ready rainbow of colors to work with.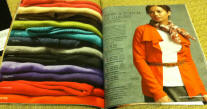 1) Cut or rip out the pages that have the stacks of color selections, and cut
them into strips so that you have a rainbow
of colors across the strip.
2) Find a piece of construction paper ( we used black) and let your toddler glue the strips you cut out from the catalog on in any order she wants! Talk about the colors you see on the strips and how they might match some of the other strips.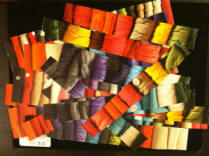 3) Then you can take some clear contact paper and cut it out just a little bigger than the construction paper. Put one piece down on a table sticky side up. Then put the artwork right on top in the middle. Then put the other piece of contact paper on so that you make a sandwich and the two pieces of contact paper stick to each other, with the artwork inside. Beautiful! :)
 Supplies Needed-
– clothing catalog
– scissors
– construction paper
– glue
– contact paper (optional)
Related posts: