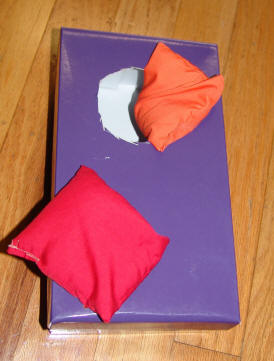 Toddlers Bean Bag Toss Game Activity –
Have some fun with this simple game and we bet that Dad will even have fun with it! If you have some or want to make some, you can use some small bean bags, otherwise you can use a pair of socks stuffed and tied in a knot.
Then find a couple of shoe boxes and cut out a circle at one end about 3 inches in diameter from the top of the shoe box , or big enough for the bean bags to fit in. (see photo) Put the boxes at different ends of the room and try to toss the bean bags in the holes!
Then let your toddler help you find all the bags and do it all over again! Be sure to hoot and holler when you get one in! :)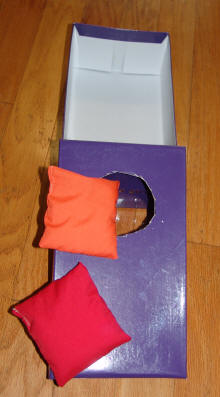 Supplies Needed– – Shoe boxes – Scissors – Bean bags, or socks rolled up in a ball
Tips/Suggestions– – If you want to add some sliding action, you can prop up the lid to the bottom part of the box. ( Yes like the popular cornhole outdoor game. :) ) –
Looking for a fun Father's Day project or gift? Why not make a specially decorated bean bag toss board for him? Let your toddler color with markers and crayons all over the shoe boxes.
Related posts: