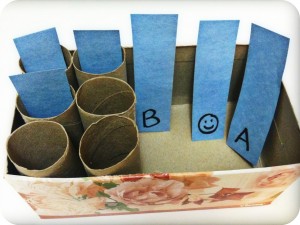 Paper Peekaboo Game for toddlers and preschoolers!
So you'll want to save up your toilet paper rolls and a tissue box for this fun one. Then cram the rolls in the box so that they stay put.
Cut up some colored paper strips so that they fit inside the paper rolls standing up. Then draw a letter, picture, number or glue on a picture on one end of each strip.
Put them in the rolls with the letter hidden at the bottom and let your little one pick each one out and tell you what she found! "Peekaboo! It's the letter A!" " You found the letter B!" Then let her put them back in for you to pull out.
You can use different colored paper or fill up the whole box with the toilet paper rolls…if you have them.
Related posts: