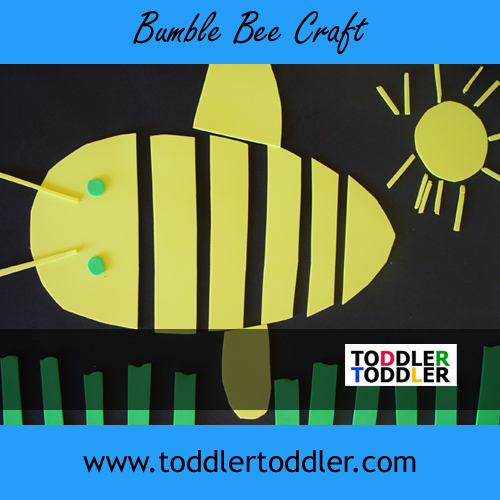 Have some fun with your toddlers and make a cute bumble bee placemat!
All you'll need for this cute craft is a few sheets of craft foam and glue. Take a large piece of black foam for the base.
Preparation: Take a large piece of yellow foam and one side cut out a circle (sun) and two wings. Then on the rest of the piece cut out a big oval for the bee. You'll use the leftovers to cut out the antennaes and rays for the sun. For the bee part, put the oval down and cut it into strips so that the head and end are thicker. Keep the strips in order so that you know what piece goes next to the other.
Then take a small piece of green foam and cut some strips, they can be jagged and uneven since it will be for the grass.
Now let your toddler / preschooler help with gluing it all together! Start with the bee and hand your child each part in order to glue in place, leaving a little space between the strips to make it looks like stripes. Then add the wings, sun and grass! You can add a couple eyes and antennaes to the bee too.
You can make a few to put out on the table for placemats for that special summer party!
Bee Creative and Have FUN! :)
Tips/Suggestions:
Talk about the colors you are using with your children.
Talk about the sound that a bee makes.
For older kids, you can let them help to cut some of the foam into strips using kid scissors.
Adults: why not make one too, along with your child! :)
Related posts: