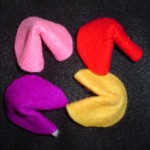 FELT FORTUNE COOKIES
Be like Martha Stewart and make some felt fortune cookies with your toddler, but you won't need any glue for these ones. All you'll need is some felt, colorful pipe cleaners, and some small strips of paper.
First, take the pipe cleaners and cut them with scissors into smaller pieces about 3 inches long. Then cut a circle of felt  3 inches in diameter. Your toddler can pick the colors of felt she/he wants to use. While you are cutting, let your toddler scribble on some strips of paper 2″x.5″. Now with your toddler's help, lay the pipe cleaner in the middle, with the strip of paper on top and fold the felt in half, with the pipe cleaner in the fold. Then bend the ends of the pipe cleaner toward each other to make the fortune cookie shape.
You can also use these as a fun activity for your toddler to open each cookie up and find the letter or number inside!

SUPPLIES NEEDED
– felt
– scissors (adult use only)
– pipe cleaners
– paper

TIPS/SUGGESTIONS
– Talk about the colors of felt you are using and how many of each color you have!
– These are great for Valentine's Day!
Related posts: