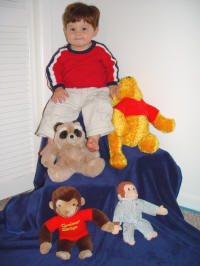 Stuffed Animal Family Portrait-
Put some boxes of different sizes next to each other. Put a sheet or blanket over the boxes. Place stuffed animals on the boxes and take some digital photos. You can even put your child in the photo. Print and frame and hang on the wall. You can use toys and trucks too. Then the picture can be used later to identify things by asking the child what he sees in the photo.

Supplies Needed-
– Digital camera, or a regular camera
– Boxes of different sizes
– A blanket or sheet
– Stuffed animals or other toys
– Frame

Tips/Suggestions-
– If the activity turns into a box crushing party then go with it! After all you are really looking for an activity where your toddler can explore all the different things around him/her.
– For girls you can have a doll/Barbie portrait
– For boys you can have a truck/train portrait
– You can use different props, like your child's tricycle, chair, step stool, etc.
Related posts: