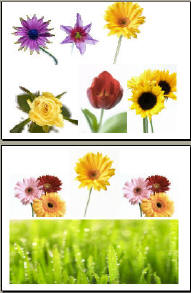 It's time get out your gardening gear! Print out the sheet of flowers, grass, and garden creatures. Then cut out the flowers and others things. Put a piece of poster board on the wall and then let your little toddler create his/her garden with the flowers and a little tape (or glue stick.) Once the flowers are in place you can then put the strip of grass along the bottom. Then add the little creatures here and there. Great job! You have just created your own flower garden!  
 Supplies Needed-
– Printer to print the flowers and grass
– Paper
– Poster Board
– Tape, or glue
 Tips/Suggestions-
– If you don't have some poster board, just use several pieces of white paper to create a space to make the garden
– This is a great opportunity to review the colors of the flowers and other objects.
– You might want to print out two sheets of the grass so that your toddler can put up a lot of flowers.
Related posts: