Thanksgiving Turkey Craft!
All you need for this fun holiday craft is a brown paper lunch bag, a toilet paper roll, some paint, and something for eyes, beak and feet.
So first open the paper bag down the seam and lay flat. I left the bottom on, but just tore it where I needed to in order to make it lay flat.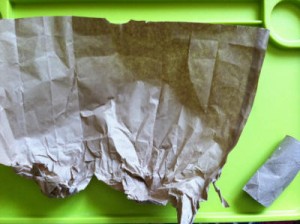 Next let your kiddo paint the paper bag with red, yellow, orange and whatever colors you want the turkey feathers to be. You can also paint the toilet paper roll if you want. After you paint, you'll need to wait a while to let it dry completely.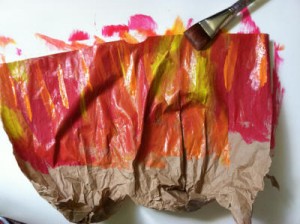 After the paint has dried, take the bottom end and gather it together and stuff it into the toilet paper roll. Then rip the bag into strips a couple of inches from the top. Now fold the roll up where they meet and use a paper clip to hold them together in the back.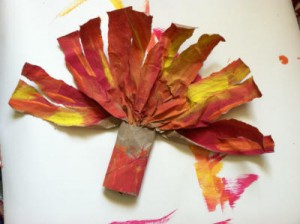 So now the roll should be in front of the bag not below it. Next fold the open end of the roll flat and then fold the top corners in to create a tapered top, then roll down to form the head. You can then glue eyes to the top of the roll.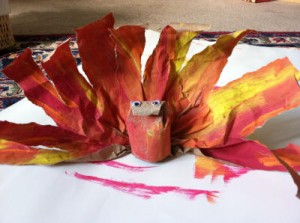 Now you can glue on a yellow beak and some brown legs and you are done!
Gobble, Gobble!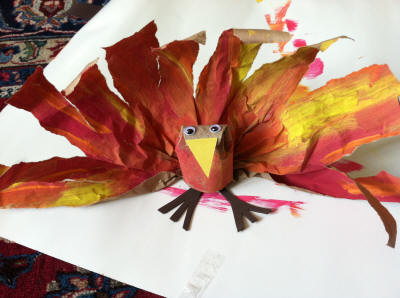 Supplies Needed-
– paper lunch bag
– toilet paper roll
– paint, paintbrush
– glue
– paper clip
– googly eyes, or you can use white paper
– yellow and brown construction paper, or craft foam
Tips/Suggestions-
– Talk about the colors of paint you are using
– Put it on the dining room table as your centerpiece. Make two and put them back to back in the middle of the table!
Related posts: