Birdhouse FUN!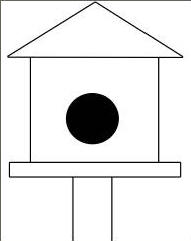 Let your toddler have some fun finding all the bird and putting them back into the birdhouse. First print out all the birds and color them with your toddler. Make some red, blue, yellow and green birds! Then print out the birdhouse and color that too. Then cut out the door to the bird house so that you can put the birds in it! Next put all the birds around the room and then have your toddler find them and bring them over to put into the birdhouse! Talk about the color of each bird she finds.

Supplies Needed-
– printer to print the birds and the birdhouse
– crayons or markers
– scissors

Tips/Suggestions-
– Make some bird sounds while looking for the birds.
– If you have some kid binoculars you can let your toddler do some bird watching before putting the birds back into the birdhouse!
Related posts: