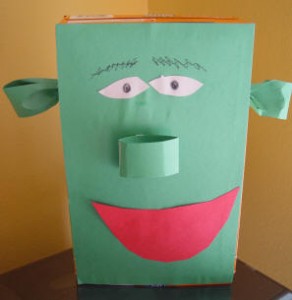 Cereal Box Shrek Puppet!
Turn that cereal box into a puppet of your favorite character…Shrek! (or any other green guy or monster!). All you need is a cereal box, some scissors, and some construction paper to glue on the box.
Take some green construction paper and cut it to match the size/shape of one side of the cereal box. Let your toddler put glue all over it and glue it to the box. Then cut out some eyes and mouth and glue those on. Next put a couple of holes in the sides of the box to put the ears (or whatever they are) in.
You can use strips of green paper folded in half and push the ends into the holes. Then make a ring of green paper to put on as the nose! Put your hand in the box and have a good chat with your new puppet friend!

Supplies Needed-
– cereal box
– scissors
– construction paper
– glue

Tips/Suggestions-
– If you have some googly eyes you can use those.
– Review the different parts of the face while your toddler glues them on!
Related posts: