Egg container Bus!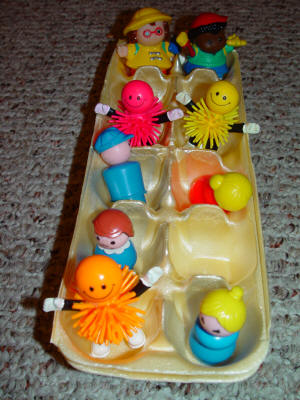 All you need for this activity is an Styrofoam egg container. Cut the container at the hinge. Then put the top part under the bottom, like in the photo. This will let it slide on the rug. Next find a bunch of your toddler's little people and have your child put in each cup. Tell him that the people are going for a ride! When the bus is full let your toddler push the bus around the carpet.  You can even sit across from each other and push the bus back and forth to each other. Or sit on the other side of the room with a few little people, and ask your toddler to put the bus over to you so that the little people can get on the bus!

Supplies Needed-
– Styrofoam egg container
– toys, little people.

Tips/Suggestions-
– If your child doesn't have an little people, you can make some with construction paper, or use some other small toys to transport on the bus/truck.
– Count the people as your toddler puts them in and out of the bus.
– Be creative and have fun!
Related posts: