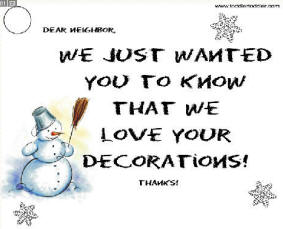 Spread Holiday Cheer!
Spread some Holiday Cheer in your neighborhood! Print out the sheet of postcards (4). Cut them out and punch a hole in the upper left hand corner where the circle is. Then let your toddler glue some glitter all over it! Depending on your preferences and security issues, you can sign your family name at the bottom or not! Or let your toddler draw with a crayon to sign the cards. Then tie a piece of ribbon/string/yarn through the hole so that you can hang the card on your neighbor's door knob! Just wait…maybe you'll get one on your door knob too!!!

Supplies Needed-
– printer to print sheet of 4 postcards
– scissors
– hole puncher
– glue
– glitter
– ribbon/string/yarn

Tips/Suggestions-
– Talk about the different parts on the snowman!
– Count the number of cards you have.
– Take a walk with your toddler and look at all the lights to identify who you want to give card to. Talk about the different colors you see and the different things.
Related posts: