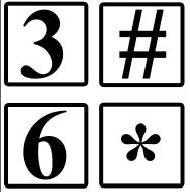 Big Phone Numbers
Help your toddler learn her numbers with this big fun activity and teach her your own phone number! First, print out all three sheets of the keypad numbers and symbols. Then cut them out and either tape them to the floor or on the wall, as you would see them on a telephone keypad. Then have your toddlers push the buttons with either their hands or feet. Make a beep sound each time she pushes one, and say the number. Then after she has pushed a bunch, pretend that a phone is ringing and that she can talk to grandma!

Supplies Needed-
– Print out the numbers for the telephone keypad: Sheets 1, 2, 3

Tips/Suggestions-
– To make this activity fun and silly, make different sounds for each button. Like a beep, or a ribbit, or a quack for the different numbers. Be sure to giggle lots too!

Related posts: