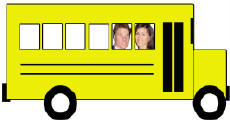 People on the bus go… –
Up and Down! Here's a chance for your toddler to invite some relatives and friends to ride the bus with her. Just print out the school bus outline and let your toddler color it yellow ( or other colors if she so wishes). Then cut out the windows (with mom's help). Next take some photos of relatives and cut out their faces and upper torsos (again with mom's help). Now let your toddler decide who gets to go on the bus and tape them to the back of the bus outline so that you can see them through the window. This is a great time to review names and such, or to sing the all time favorite song..."Wheels on the Bus"!

Supplies needed:
– Printer to print out Bus Outline
– crayons, markers
– Scissors
– photos of friends, relatives (hard copies or digital prints)

Tips/Suggestions:
– If you have some yellow printer paper you can print on that instead of coloring
– You can glue the outline to some cardstock leaving just a little bit unglued right under each window so that you can tuck a photo inside the window. This way it will last longer and you can use it again some other time.
Related posts: