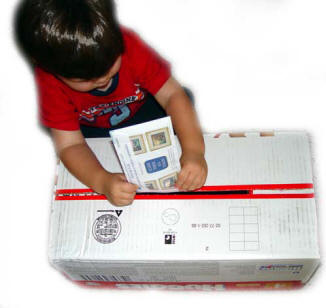 Diaper-"Mail"-box
It's time to take the mail out to the mailbox! Only your toddler's mailbox is your diaper box. For a few days, save up any junk mail envelopes. Or use some opened envelopes and just cut off the ripped end and tape shut. Then tell your toddler that it's time to put the mail in the mailbox. All you'll need is that empty diaper box to place upside down on the floor. Then let your little one push the envelopes down through the slit that on the bottom of the box. When he's all done pushing them through, let him lift up the box to find all the envelopes on the floor and do it again!
Supplies Needed:
– junk mail/recycled envelopes
– diaper box ( or you can use any tall box and cut a slit in it)
Tips/Suggestions:
– Your toddler might enjoy playing the just the envelopes, especially if they have the plastic see through window on them that crinkles…and that's okay! Let him have fun with it and talk about the different sounds.
– If there are any words on the envelopes, read them to your child (if appropriate).
– Talk about the different sizes and colors of the envelopes.
Related posts: