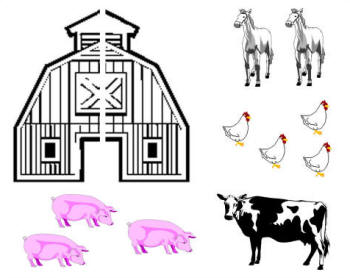 Be a Farmer today!
Let your toddler be a farmer today and help to get the animals back into the barn! Print out the sheet of barn and animals. Then cut out around each animal and the two halves of the barn. Then tape the two barn halves onto a piece of paper so that the barn opens up in the middle. (Tape only the outside edges of the barn.) Then put the animals on the floor/room and have your toddler collect all the animals to put in the barn. Let him, open the barn, and place the animals inside. You can talk about the different sounds the animals make and how many of each there are! Why not sing Old MacDonald while your toddler is finding the animals!

Supplies Needed-
– Printer to print the farm animals and barn
– scissors
– tape

Tips/Suggestions-
– You can let your toddler color the barn red before you tape it down.
– Put on some nice fun hee-haw music while you do this activity!
Related posts: