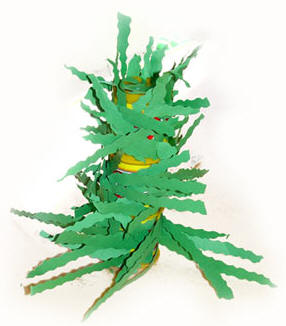 Holiday Tree!
Here's a fun activity that you and your toddler can do in the holiday spirit! You'll need about 3 empty plastic-modeling-clay containers (Ex. play dough containers) stacked inside each other. Then take some green construction paper and with some fancy pattern scissors, cut out strips of paper. If your toddler is handy enough, he/she can help with the cutting or just watch and play with the strips as they accumulate. You'll want to have a group of longer strips for the bottom, medium strips for the middle and shorter strips for the top. Next put some Elmer's glue on the bottom plastic container and let your toddler put the long strips on the glue. They can be placed any which way! Then after that section has dried, move on the middle section and apply glue then the strips. After that has dried work on the top with the shorter strips.

Supplies Needed-
– 3 empty plastic modeling clay (play dough) containers
– Fancy pattern scissors
– Green construction paper
– Glue


Tips/Suggestions-
– You can let your toddler help to push the glue over the containers with her fingers. Talk about how the glue feels.
– You can add some small red/yellow circles to some of the strips to act like ornaments! Be CREATIVE! and Have FUN!
Related posts: