Indoor Toddler Hopscotch! –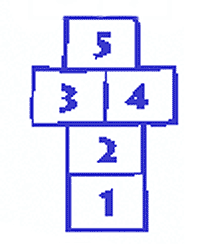 Just because it is rainy outside doesn't mean you can't have fun inside! It's time to have fun with playing hopscotch in your living room or kitchen. Take some masking tape (or even the painter's blue masking tape) and create the diagram to the right on your rug/floor. Then have your little toddler toss a small toy at the squares. Have her walk/jump over the squares to get to the toy and pick it up. As she is jumping on each square be sure to call out the number. Then have her bring the toy back to you and you take your turn! This is a great way to get some exercise and learn your numbers, even if it's a rainy day!

Supplies needed:
– floor space
– masking tape

Tips/Suggestions:
– Your toddler might want to pull up the tape when she/he sees you putting it down. You can try to create the hopscotch board during nap time to try to avoid this. But, it's okay if he/she starts to pull it up. She'll learn how tape is sticky and how it feels on her fingers. 
Related posts: