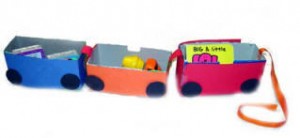 A Potty Train –
Train… as in CHOO CHOO!!! Jump on the Potty Express! Yes, with this activity you will make a train of items that your toddler will take to the potty, for that special potty training event. You'll need some ribbon, 3 small boxes, construction paper, and some tape. Take construction paper and cover the sides of the boxes. Then cut out some small circles for the wheels and tape/glue them to each box. To connect the boxes together just take a small strip of construction paper and tape it to the inside front of the last box , then tape the other side to the inside back of the box in front. Do the same for the next box. Then for the front box, tape a single long ribbon to the front inside. See photo. Next have your toddler pick a favorite small "potty" book, toy, and stickers. Put each item in a box and keep the train nearby for that run to the bathroom. Have your toddler pull the train to the bathroom so that the items are nearby for the event.

Supplies Needed:
– 3 small boxes (sizes will depend on the size of the toy and book you use)
– small book
– small toy
– stickers
– ribbon
– scissors
– tape/glue
– colored construction paper

Tips/Suggestions:
– Your toddler might just enjoy pulling the potty train around, whether it's potty time or not. Just go with it!
– Toddler shoe boxes or sandwich bag boxes are a perfect size for this activity.
– While you are covering the boxes with paper, review the colors you are using.
– When you make the wheels, review the shape of a circle.
– You might even let your toddler color the boxes with crayons or markers after you have covered them with paper. 

Related posts: