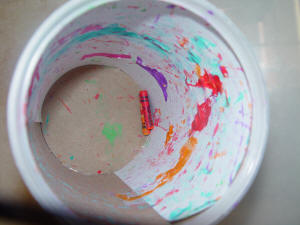 Shake and Paint!
Are you looking for that magic way for your toddler to paint without making a mess and getting paint all over her fingers? Here's the solution! Take a large empty Oatmeal container and tape a piece of white paper inside. Now take a couple of broken crayons and dip them in some kids paint. They just need to have a little paint on them. Put them inside the container and then put the lid back on. Now let your toddler take the container and shake it, roll it on the floor, kick it or whatever to move the crayons around inside. Then take the lid off and see what the crayons and paint did on the paper!

Supplies Needed-
– large oatmeal container (if you don't have one, you can always use a cereal box too.)
– crayons, broken
– kids paint
– white paper

Tips/Suggestions-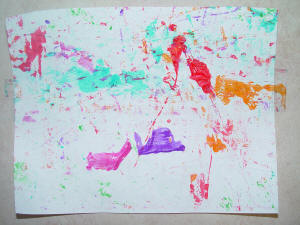 – After you put the crayons in you can roll the container back and forth to each other.
– You can do one crayon at a time to see how each color changes the painting, or do a few colors at once.

Related posts: