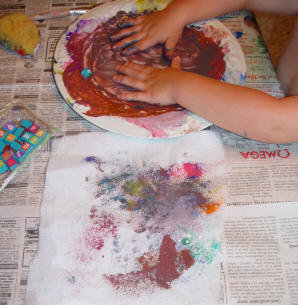 Paint on Felt!
It might sound crazy, but toddlers love different, crazy things! Take a piece of felt, white with sparkles is great, and let your toddler paint on it! Use some washable kid paints and go crazy! Let her use her hands and feel the paint and the felt with her fingers. When she's done, let it dry and glue it to a nice sheet of black construction paper to act as a frame and put it on the refrigerator for all to see!

Supplies Needed-
– felt sheet
– washable kid paints

Tips/Suggestions-
– Put some newspaper down on the table before beginning this activity!
– Keep a washcloth or some paper towels nearby, too!
Related posts: