Shamrock Greetings!: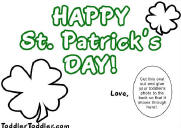 St Patrick's Day! Put on your green shirt and have fun coloring some shamrocks with this toddler activity! Click on the image to print the greeting and let your toddler color it for that special someone. After your tot is finished with her coloring masterpiece, cut out the oval in the bottom right corner. Then find a photo of your toddler and tape it to the back so that it shows through on the front. Hang it up or put it in the mail for that special friend or relative to wish them a Happy St. Patrick's Day!

Supplies Needed-
– Printer and paper (or cardstock) to print the greeting
– Scissors
– Photo of your toddler

Tips/Suggestions-
– If you want to make a fancy greeting, cut out some shamrocks from green felt and glue them to the greeting
– Take a digital photo of your child all dressed in green to put on the greeting. Print it out and glue it to paper!
Related posts: