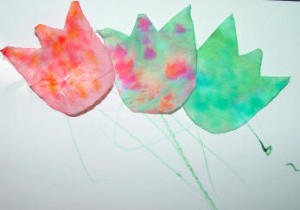 (Mother's Day) Paper towel flower tulips…
You'll have fun with your toddlers making these easy colorful tulips. The perfect craft just in time for Mother's Day! First, take a few sheets of paper towel and cut out some tulip shapes. Then get some washable markers or a little washable kids' paint. Then take a plastic cottage cheese lid (or small plate) and put a few drops a water on it. Next let your toddler draw with the markers on the lid, moving the water drops around. Then give her a paper towel cutout of a tulip to clean up the colored water on the lid. The paper towel will absorb the water and the marker colors to create a fun colored tulip. (see photo below right) Let it dry and then glue to a card for that special mother in your life!
Supplies Needed-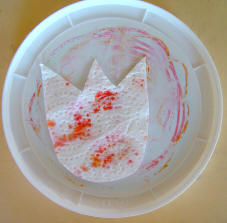 – paper towels
– small plate or cottage cheese container lid
– washable markers, or washable kid's paint
Tips/Suggestions-
– Let your toddler have fun with using the paper towel tulip to absorb all the water and marker colors. She can squeeze the water out and do it again!
Related posts: