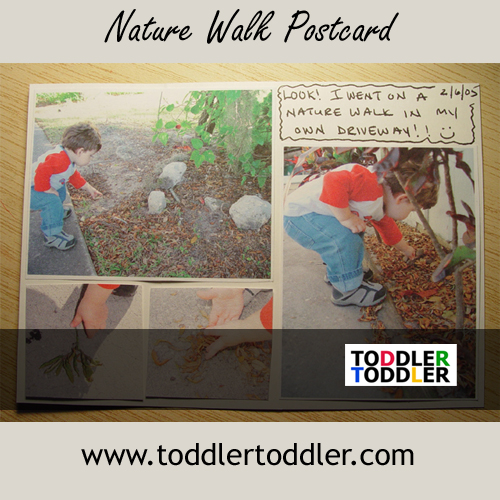 Take a short walk outside and let your toddler explore the great outdoors. Take digital photos of rocks, leaves, sticks, plants, trees, bugs that you see in your own yard/driveway. Once you are back inside at the computer, download the photos and either collage them with a graphics program, or print them individually. Glue them to the card stock post cards. Put contact paper over top and then sign the back, put a stamp on it and send it to your favorite friend/relative.
 Supplies Needed-
– Access to the outdoors
– Digital camera, or a regular camera
– Photo Paper
– Card stock cut into post card size
– Contact paper
– Postage stamps
 Tips/Suggestions-
– You might find that your child keeps finding more and more things to look at. Encourage her to look at all sorts of things and touch them ( if not dangerous) to see how they feel different.
– For a good contrast, you can take a photo of the object in the child's hand or put it on some colored construction paper and then take a photo. You could even write the date and your child's name on the paper so that it is visible in the photo.
Related posts: