Connect the Map Dots!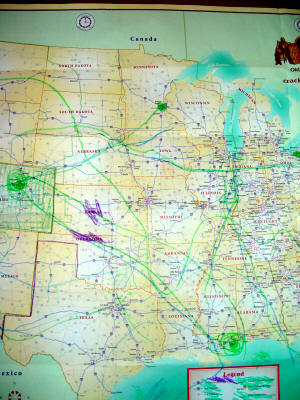 Connecting the dots is the beginning exercise for working on writing letters. Here's a fun way to introduce the concept to your toddler. Get a map that you don't mind writing on. Sometimes you can get on at the local chamber office, or some restaurants. Put the map on the table and talk about it to your toddler. Find your state and use a crayon to make a big circle around your city. Then find another state where a friend or relative lives and put a circle on their city. Now ask your toddler if he wants to take a trip to grandma's house and use a crayon to take the trip by drawing from one circle to the other. Put another circle in a different nearby city and ask him if he wants to go to "NYC to see a big city". It can be endless fun and you can introduce your child to some of the state names too!
Supplies Needed-
– map
– crayons
Tips/Suggestions-
– When drawing the circles, change the colors of each city. Then when you "travel" ask your toddler to draw from the purple circle to the green circle.
Related posts: